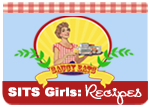 Have you been by here yet?
You've got to check out the delicious
recipes
there! Here's my contribution. And, like anything else, of course it's a recipe I swiped. I've been going to the K. house of cooking 'cause let me tell ya . . . everything from there is good!!! These cheese ball disappears quicker than anything.
1 package of cream cheese, room temperature
1 package shredded
Cheddar
cheese (the smaller size, maybe 8 oz?)
1 can of crushed pineapple, well drained
1/2 green pepper, finely chopped
3-4 green onions, finely chopped

You're going to want to make sure that there is NO moisture in any of the
ingredients
. I usually take the pepper, onion, and pineapple and squeeze the heck out of it in a paper towel. More moisture = softer cheese ball. Once you've done that, you're going to mash all the
ingredients
up with your hands in a large bowl. Grossed out yet?
Mmm
, lick your fingers (after forming the ball, please!) and moan with delight. K. also puts finely chopped pecans on her ball, but since I'm not wild about nuts, I usually leave these off. Can be eaten immediately, or chilled and then served. People never guess about the pineapple! Next time I make it, I'll make sure I get some photos going on. Try it, let me know how you like it! Oh, and one more thing: I usually DOUBLE this recipe if I'm taking it for a group event . . . yeah, 'cause it disappears that quick!